Jashne Abangun
Ancient Iranian Celebration
10 Aban Maah 6372 Shahanshahi (Federalism)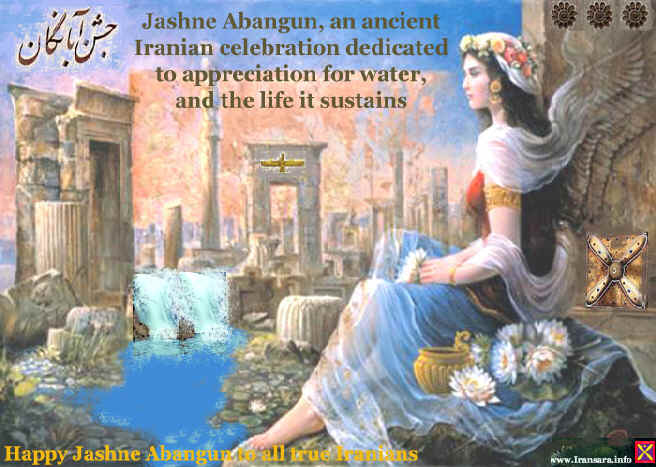 Jashne Abangun is an ancient Iranian celebration of nature and reflects the rich cultural heritage of Iran. Aab in Persian language means water and Aban means body of water. Jashne Abangun is celebrated during the Persian month of Aban the beginning of the raining season and is dedicated to appreciation of water and the life it sustains. Traditional celebration included gathering at home with family and friends for a holiday feast and welcoming the raining season. Ancient Iranians were always inspired by nature and treasured four main elements of life: Air, Water, Soil and Fire. True Iranians celebrate life all year long and commemorate many monthly festivals along with four main seasonal celebrations (Norooz, Mehregun, Shabe-Cheleh and Sadeh). All these celebrations are directly in tune with nature and change in seasons.
Happy "Jashne Abangun" to all true Iranians around the world


Iranian History, Culture and Festivals inspire the world!

Dorood to Iran, Iranians and Farhange Iran
It is time for IRANIANS to be True IRANIAN