Jashne Gol
Ancient Iranian Flower Celebration
Ordibehesht 2 - April 21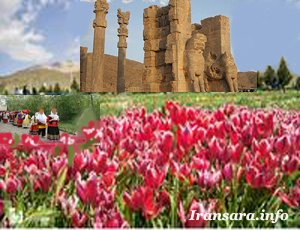 Jashne Gol or flower celebration is a wonderful ancient Iranian celebration that reflects the rich cultural heritage of Iran. In early spring ancient Iranians would go to the countryside and open fields to celebrate and gather medicinal herb flowers in full bloom. Ancient Iranians believed that certain flowers have crucial role to play in enhancing the body's natural immune response - in other words, it helps body to boost its natural ability to stave off, and counter, infections and other potentially harmful conditions. The use of great variety of fragrances have also been used for spiritual, social and therapeutic purpose in Iran. Certain flowers are used today in Iran to treat infections of all kinds and some are particularly helpful in combating such chronic infections as post-viral fatigue syndrome, and in preventing and treating colds, flu, skin disorders and respiratory infections.
Happy " Jashne Gol" to all true Iranians around the world
Iranian History, Culture and Festivals inspire the World!
Dorood to Iran, Iranians and Farhange Iran
It is time for IRANIANS to be True IRANIAN